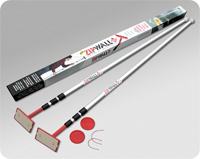 Zipwall SLP (Spring Loaded Pole) 2 Pack
Standard Protection
Zipwall SLP plunger and spring are built into the pole, making the poles lighter (1.5 lbs. each) and stronger. The plunger is made of solid polycarbonate and is unbreakable even when used under the toughest conditions. Package contains two spring-loaded poles and grips.
Zipwall creates an instant barrier system, controlling dust by isolating the worksite from other areas. The system can easily be assembled by one person in five minutes providing a very cost effective method of containing your workspace. Telescopic twist and lock poles, extendable to 20 ft., are topped with spring-loaded jacks that securely hold in place plastic sheeting, light canvas tarp or drop cloth. Five foot foam rail bars with sponge edges tightly secure the sheeting to the ceiling and side clamps without causing any damage to ensure a tight seal with the wall for an airtight barrier. Use the Zipwall Zipper to create a re-sealable entrance into the work area and use the Zipwall Grips to secure poles on slick surfaces.
Features and Benefits
Easy to assemble in less than 5 minutes
Securely contains your workspace floor to ceiling and wall to wall
Locks in place to provide an instant airtight dust barrier
Ideal for carpentry, floor finishing, painting, demolition, and more
Note: Polyethylene sheeting sold separately.